Falling in love with Cuba
If you're looking for a relatively inexpensive and yet almost transcendent travel experience, head to Havana, Cuba. We visited Havana not long ago, and fell madly in love with the soul of the place – it's like no other.
The juxtaposition of good and bad, light and dark in Havana is on display everywhere: on one hand, there's the seductive music in the streets, cute 1950s cars, and beguiling, friendly, playful people. And on the other hand – in the same hand – is Cuba's abject poverty and poignant past, now in crumbling ruins.
Havana's history dates back to the 1500s, and has been variously taken over by the Spanish, French and British – and the gorgeous blend of architecture shows this exotic mix. It reminds me of a crumbling Paris, France or Barcelona, Spain. Indeed, in its heyday, Havana was called the Paris of the Antilles.
Walk around old Havana and you can see the original gorgeous city planning – wide European-style boulevards, pedestrian promenades, grand buildings, and palm trees swaying in the tropical breeze. The bones are absolutely breathtakingly stunning. But what makes this city so haunting is that since the Cuban Revolution of 1959 and the ensuing American embargo, the place has not been maintained – there has been no money.
The once stately deco and colonial style buildings are for the most part, in utter disrepair with plaster falling off the outer facades and interior walls, and in most of those old buildings, there are long ago broken elevators and raw wiring hanging out of ceilings.
We were shocked to see people living in crumbling buildings
We were shocked to walk down a Havana street past one of these buildings that looked absolutely condemned, but then we thought we heard people's voices coming from inside. The building – once beautiful for sure – was absolutely decrepit and looked abandoned. But we followed the voices and entered the open foyer. We looked up the staircase (also once grand), and could see people on the top floor – maybe six or so flights of stairs up.  We realized that Cuban families lived in this building. And when we saw this scene repeated over and over again throughout old Havana, we understood that this is how people live. They have no money.
Yet at the same time, there were loads of children playing in the narrow streets, and adults hung out chatting with each other. Musicians played on the sidewalks. To us, we saw what seemed a real, bustling, lively joy in these street scenes.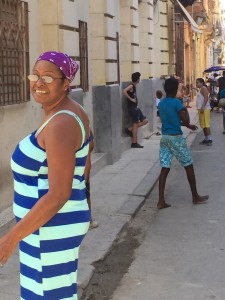 But we were acutely aware that we were tourists and because of that – we saw only a glimpse of real life in Havana.
If you go to old Havana, take time to visit the plethora of fascinating museums. That way, even as a tourist, you can get a broader picture of how things have come to be there. As for the restaurants – don't go expecting great food. At least, that was the case when we visited. The food is pretty basic and there are some, but not a lot of restaurants. We found one great, local coffee shop, but there were very few stores. You don't go to Cuba to shop – you go to soak up the ambience, which, as I've said – is unlike just about anywhere else I've ever seen.
Havana is like going to a ghost town only people are living there, and the ghost town has stunningly beautiful bones. The Mob ran Havana before Castro took over and it was literally a den of iniquity. Crime and corruption were rampant, and at the same time, there was much more material comfort then. Those stately buildings were kept in good repair, and the city glistened.
Now, thanks to Castro, crime is pretty much gone and the streets are safe, but the people are dirt poor, the City is tired, and there is extremely little opportunity. Most families live on $20 pesos per month plus food ration coupons. That's poor.
Things are changing though. We could see some buildings being renovated. UNESCO declared it a World Heritage site in 1982 and is slowly – very slowly – repairing many of the buildings.
What happens in the future remains a mystery. Will there be a renaissance? Will Cuba hang on to Communism? In five or ten years will it be papered over with McDonald's and Starbucks?
Can Cuba find a way to offer better wages for their citizens, while also maintaining their cultural integrity? Can they improve their status, without turning into working, spending, shopping, stressed out people who lose their vibrancy and heritage? Is there a middle way?
I hope so, and what I find most incredibly interesting to watch is how this new social experiment plays out – in real time – and in our lifetimes.
A great guide book with a terrific history lesson is, Insight Guides, Cuba.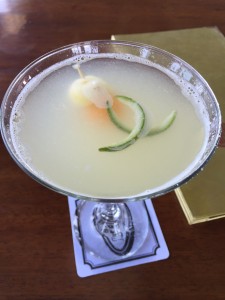 Oh – and even though the Mojito is the Cuban national drink – here's a recipe for my favorite cocktail – called Havana Special. Hasta la vista!
Ingredients
1 ounce light rum

1/2 ounce fresh lemon juice

2 ounces unsweetened pineapple juice

Twist of lemon peel
Instructions
Shake the rum, lemon juice, and pineapple juice with ice; then strain over ice into a chilled cocktail glass. Garnish with lemon peel.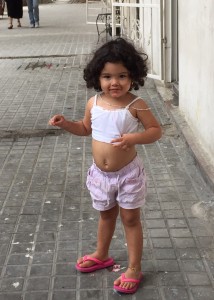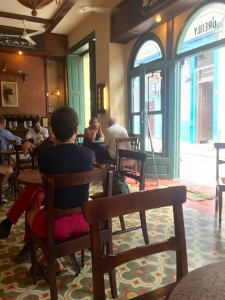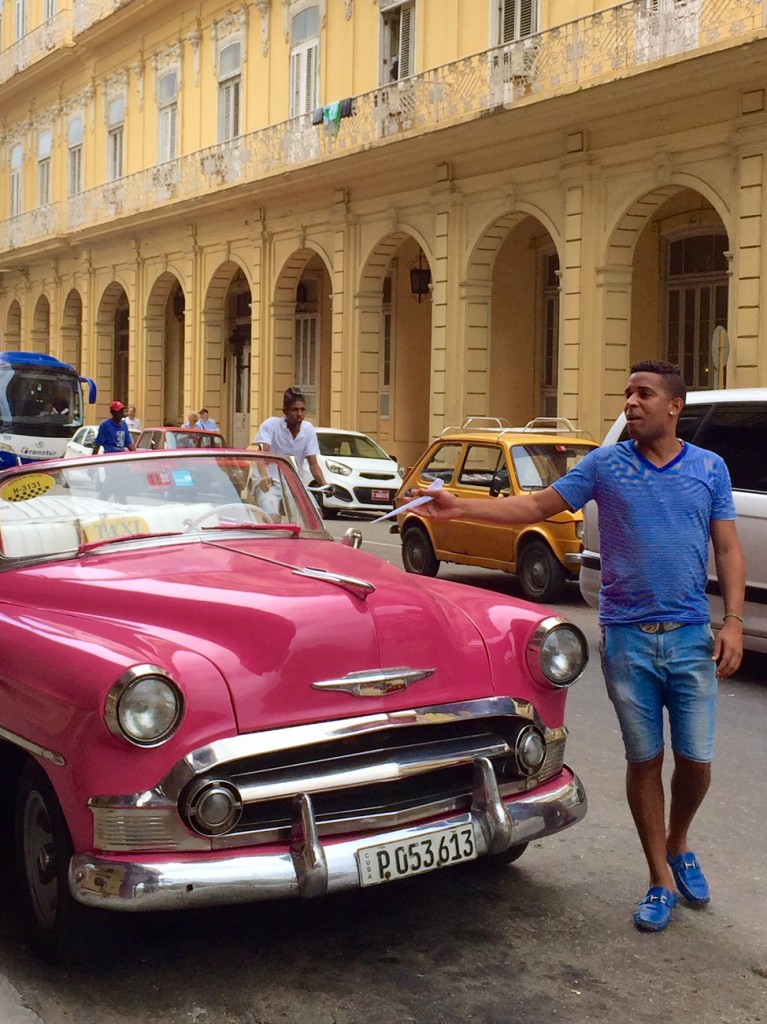 .