Martha Miller and her husband John had a big dream to move to Italy from their home in Houston, Texas. They quit their jobs, gave away their stuff, and moved into a little apartment in Rome's Trastevere neighborhood. Here's their story:
Friends wanted to know how we did it, and the truth is that my husband and I became really good at saving money in order to make it happen. We aren't trust-fund babies or self-made millionaires. We started with a dream to move overseas for 21 months while John went to school, and thirteen months after we got married, we were on the plane to Rome. It was surreal and exciting.
When we visited Rome the previous spring to evaluate the school, we were unexpectedly shown four apartments to choose from. We had no problem agreeing on the one we chose. It was a small apartment up three flights of stairs, and it looked onto a courtyard that afforded us a bird's eye view of our neighbor's terraces. We even passed up a larger, two-bedroom place with a view of the Palatine Hill. We intentionally picked our one-bedroom studio because it was perfect for observing the Mediterranean lifestyle that we were so eager to adopt.
We weren't always savers
Our dream to move to Italy is what made it easy for us to save money quickly. But we weren't always savers.
Before we knew each other, when we were both in our 20s, we had made silly financial decisions – buying things we couldn't afford. But neither of us felt comfortable with that, so we individually worked really hard to get out of debt. By the time we met, we were both debt free.
It was such an important value to John that on our first date, he asked me if I owed any money on my car!
I remember thinking, "That's an offensive and personal question!" But then I realized he was checking me out to see if I was one of those big spenders.
As for me, I had been laid off not once but twice, which taught me that people really need a savings account because anything can happen at any time.
Around that time I read the classic book on finances, Your Money or Your Life, by Joe Dominguez and Vicki Robin. The book taught me that with every purchase I made, I was paying for it with my life at a job I didn't like.
When I got my second layoff, it was such a relief in a way, because I felt like – wow – I have money saved, I have four months of expenses easily covered, so I could take my time looking for the right job.
It was during that period that I met John who had been working as a news photographer for a television station. He loved it for many years, but he also thought it was time to move on. He wanted to go back to school.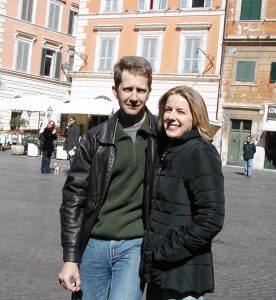 We started thinking outside the box
His idea to return to school is what got us thinking about moving to Italy. We started thinking outside the box. I had been carrying a dream of living overseas ever since I visited Florence with my mother years before, but I had no idea how I could do it.
So John and I started thinking about possibilities. By the time we got married, we knew we wanted to go overseas and we knew we needed to save a lot of money in order to make it happen.
What made it easy to save money was our common goal of moving. One of the things I did was put a visual on our refrigerator. I had a picture of John on his bike that was taken in Texas, so I pasted it onto a clipping from a magazine with Tuscan hills. Every time I'd see the photo, I'd think, "We're going to Italy! We're going there!" And then it became easier and easier to save. Every single thing we didn't buy was more money we could put towards making our move. We didn't need more stuff to feather our nest – we didn't need more of anything.
Sometimes though, we'd question ourselves. We wondered if we should take the risk of quitting our jobs to move to Italy. But several thoughts kept going through my mind: "Two years are going to go by anyway. How are we going to feel in two years if we don't take this chance? What about in twenty years? Will we always have nagging feelings of 'what if…..?'''
But what really surprised us was how hard it was to get rid of the stuff we already had. That was because there's so much emotion tied to your things. Sorting through it all took months, because either your mom or someone you love gave it to you or it was family heirloom furniture. Then you'd have to find another family member who might want it, but maybe they lived in another state. So it took a lot longer than we anticipated to get rid of everything we didn't need. But we did it.
We saved money by cooking at home most of the time, we cut down our cable and phone bill, and we signed a 13 month lease on our apartment. Our plan was to leave in 13 months, and we wanted to be assured that we wouldn't get a rent raise. John is also really good about repairing things. I remember one time when our coffee maker broke and I got excited that I could buy a new one. I started researching, but then John repaired our old one! I was disappointed, but quickly realized this was was more money towards our goal.
We were constantly looking for ways to chip away and save more, like not buying our favorite coffee at places like Starbucks. Every time I'd pass a coffee shop and not buy a coffee I told myself I was that much closer to enjoying a cappucino in Italy. We didn't feel deprived at all. In fact, we felt smart because we were putting money away for our goal of doing what we wanted to do.
John's program was for 21 months and we decided we'd need $1,000 a month for food and bills for those 21 months in Rome. John had already saved for our housing and tuition – that money was in CDs and other investments that he could cash in.
We were really proud of ourselves. We began our marriage with no debt and it was 13 months after we got married that we were walking up the three flights of stairs to our little apartment in Rome.
One thing we know is that living under your means sounds impossible. I had worked in retail management for a long time and I know that it's human nature to want things and that retailers are really good at getting you to buy stuff.
When I worked in retail I would get excited and want something on every truck, but eventually I realized there would always be another truck, and that even though I might want something, I didn't need to act on it. The feeling would always pass.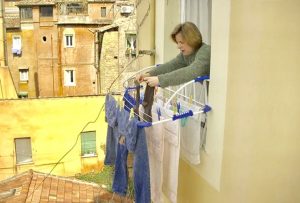 We lived our dream in Rome
In so many ways it's a dream to live in Rome. It's a beautiful city and you can walk and walk from one end to the other. The food, the markets, the restaurants and the history – it's a wonderful city. There are little food markets that carry different assortments tucked in at what seem odd places. A the end of our street one little shop sold limited produce: lemons, tomatoes, arugula and hazelnuts, while another shop carried a fuller line with all of these less the hazelnuts, but adding gorgeous purple eggplants and cantaloupes.
Often in the morning we'd head down the steps in our building onto paved cobbles, and out into the aroma of freshly ground coffee beans wafting in the open air. We'd surrender and walk in and order our coffee. Plus, we couldn't resist the pastries in the glass case – plain and chocolate croissants, fruit turnovers and glazed brioches.
We walked everywhere. Once John started his program, I enrolled in an Italian language school, where I went every day. I would follow the cobbles to the Tiber, and continue across the Ponte Sisto footbridge, which is popular with artists. They'd often set up their canvases and paint scenes of the Vatican dome in the distance. With reflections on the water of the Garibaldi and Mazzini bridges on either side, I almost had to pinch myself that this wasn't a dream. I would tell myself, "I am so incredibly lucky to see this beauty every morning."
We found it took awhile to really get into the fabric of life there and eventually we started meeting ex-pats and other non-Italians. It took awhile longer to meet the Italians, but eventually we did – especially when the sewer in our apartment broke. Then, our whole apartment building turned out to help us!
The Italian word, "risparmiare" also became part of our life – it means to save and to spare. We learned this was an important concept in Rome because in the U.S., we waste things without thinking too much about it – like utilities – always leaving lights on. But in Rome, electricity is something you save. For instance, I couldn't wash clothes and dry my hair at the same time or it would blow the circuit breaker. The other part of the word means to spare. That means you don't waste anything. For instance, you have a very small trash can. We found that you don't need a big one because you're not supposed to be wasting a lot of stuff. We lived in a very small place so we found that we didn't need much.
That same idea applied to women's fashion. The Italian women are very fashionable, but I discovered that they don't own a lot of clothes. What they do is choose a few form fitting basics and then accessorize with a new scarf. My new friend Simona, who ran a pensione, told me that Italian women love to look sexy, but this doesn't mean overt bareness. They exude a more subtle sexiness by keeping their bodies fit and wearing slim-cut clothing.
One reason why they don't have a lot of clothes is because they live in small places, and also jobs are scarce, so they know how to put outfits together with great style. They don't have anywhere near the closet space we have in the U.S.
I had an Italian language teacher who wore the same outfit two days in a row. Someone later told me this was perfectly normal because an outfit usually isn't dirty when you only wear it once. We would never show up with the same outfit twice in the U.S.!
But still, on my way to my Italian classes I was always looking in store windows, yet I knew if I bought anything, it would have to fit into my very small closet in our little apartment.
We also discovered that partly because the Italians live in small spaces, they are very communal. Every night around 5 pm they would come out of their apartments and engage in what is called the passeggiata. It's a walk through the piazza, often while eating a gelato. It's like their happy hour. They walk through the piazza and gather and talk with friends. The kids might be playing ball. Or they might go to a cafe and have coffee or drinks – its a very cafe society. So having a small home is not a problem because you meet people in the public areas.
I also learned to get around without a car. In Houston, Texas, where we lived before we moved to Rome, I was a girl who wouldn't ride a city bus four miles to work. In Rome I learned to navigate subways, trams and buses and happily wore out the soles of several pairs of shoes, walking hundreds of miles over the twenty months we lived there. After that experience, I'll never again feel the same way about transportation. The last car I had before moving to Rome was a Nissan Altima purchased brand new. Now, I could not care less about automatic windows and power steering.
It was hard to say good-bye
As John's program was ending, in some ways we were happy to be going back to the U.S. to see our friends and family who we missed. But what nagged me most about moving back was my impending loss of independence. In Rome I had independence because the city offers a level of convenience and freedom I had never experienced anywhere else.
I felt safe in my neighborhood, being able to go anywhere I wanted at any time. Need a gelato fix at 11:00 pm? No problem. If John was studying and didn't want to come along, I could just run down the stairs and stroll around the neighborhood and over to Viale Trastevere to one of our favorite artisanal gelato shops. I could enjoy the walk home, and often run into someone I knew. I never worried about my personal safety. I knew I'd miss that when I returned to the U.S.
A few hours before we headed out to John's graduation, I stopped by my friends' Roberto and Anna's small specialty grocery where I regularly picked up Pesto Genovese, the most delectable olives, and cheeses that they would recommended and that I might never have heard of otherwise.
We hugged good-bye, and that's all I could manage. I walked one last time though the streets of our neighborhood and through Piazza Santa Maria in Trastevere and I could barely believe twenty-one months had flown by so quickly. I loved that place with all of its beauty and its imperfections. The glistening mosaics, the octagonal fountain, the scaffolding still in place on the nearby buildings, the gelato shops, the giornalaio (news agent) and the arrotino (knife grinder), and the punkabbestia (bohemians) and their dogs. I knew I'd miss it all.
As we were packing up to move back to the U.S., a Sicilian told me that Italians never move. She said, "Italians are not like that. You're born in a place. You live in that place and you die in that place." What wonderful simplicity I thought!
Back home, I try to keep the idea that we don't need so much stuff. We now live in a house that's 1400 s/f. and it still feels huge. I've found that getting rid of stuff and living in a small space frees up your brain a lot because you don't have all this stuff to clean and manage and take care of – it really helps you to focus on other things. We have an 11-year-old son who was born after we got back.
When we moved onto our street in San Antonio, Texas, my goal was to know every single person on the block – it's a really long block with 20 houses. But everyone is so busy and at different points in their lives – some with little kids, some grandparents and so on – that it's hard to get together. Sometimes you don't even know your neighbor across the street because they come in, close the garage door and you never see them.
We like our life in San Antonio, but we don't totally fit in now. I walk my son the one-half mile to school, but there are people who live closer and drive their kids. They see me and think my car must be broken down, They ask me why I'm walking!
If John and I had the chance to move to Italy again for an extended time, we certainly would, but this time it would require more of a stable income or a guaranteed job when we got back. We're at a different stage in life so this would be more important – especially with a child now.
The experien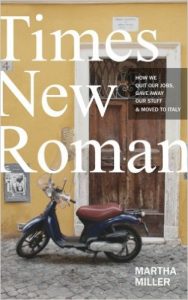 ce of living in Rome for 21 months lives within us every day. Be it making a delicious meal with a few fresh vegetables from a farmers' market or walking our son to scout meetings instead of driving, we try to keep the mindset of living simply and saving the earth's resources whenever possible and practical.
For the full story of the Millers' life in Rome, read Martha's new book, Times New Roman. How we quit our jobs, gave away our stuff & moved to Italy.