Let's talk about style for a minute. Specifically, how to have great style when you're not naturally good at choosing colors and keeping up with what's current. This applies to your home decor and your wardrobe.
The wardrobe answer jumped out at me from a page in a recent Vogue Magazine.
You know how some people always seem to look effortlessly great? This applies to women and men.
And you know how some people's houses seem to look fresh, clean, simple and inviting?
Here's how. KEEP EVERYTHING SIMPLE. In fact, RIDICULOUSLY SIMPLE.
And then both you and your home will look fabulous and effortless.
SIMPLE CLOTHES TO THE RESCUE
First, let me start with a man I just saw in a crowded airport. He stood out because of his pure, elegant and simple style. He was wearing a pair of great fitting jeans and a white cotton shirt. Done. He was the best looking man in the waiting area, by far. He stood out for his crisp, effortless style. I didn't get a photo of him, but here's what I'm talking about – this man below looks simple, clean, crisp and great.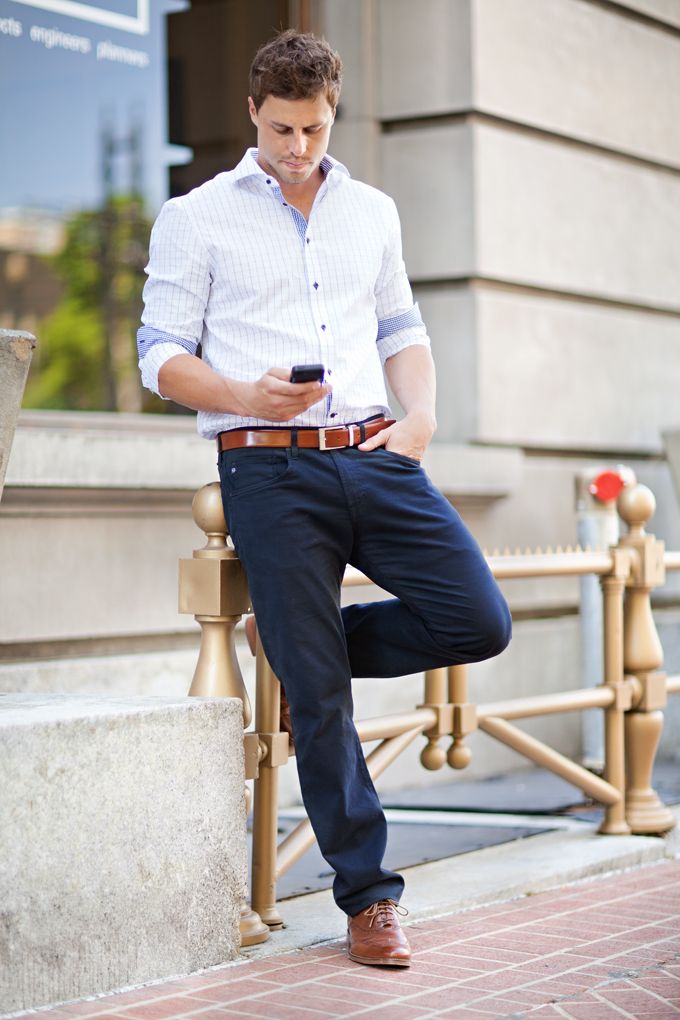 And now, back to how my Vogue Magazine insight happened. I was flipping through the pages and came to the section on Vogue contributors. Most of them look way trendier and cooler than I'll ever look.
But one female contributor stood out. She's wearing a terrifically simple outfit and she looks quietly stylish. I say "quietly stylish" because she's not the person who turns heads, necessarily. In order to pull that off, you need to dress more provocatively and you need to know how to pull things together. That's all fine if you're good at it. But if you're not – then in order to always look great – go for simplicity as this woman has done. After all – there's nothing worse than seeing a person who has tried to pull off some trendy or eye-catching outfit and it doesn't work. At best, it winds up looking messy. I apologize for the blurry image, but it's a photo of a photo from Vogue. At least you can get the idea of what I'm talking about. Also, I'm not a fan of the insanely skinny look that she seems to have (let's hear it for healthy and fit instead), but nonetheless, you get the idea of her outfit. Here she is: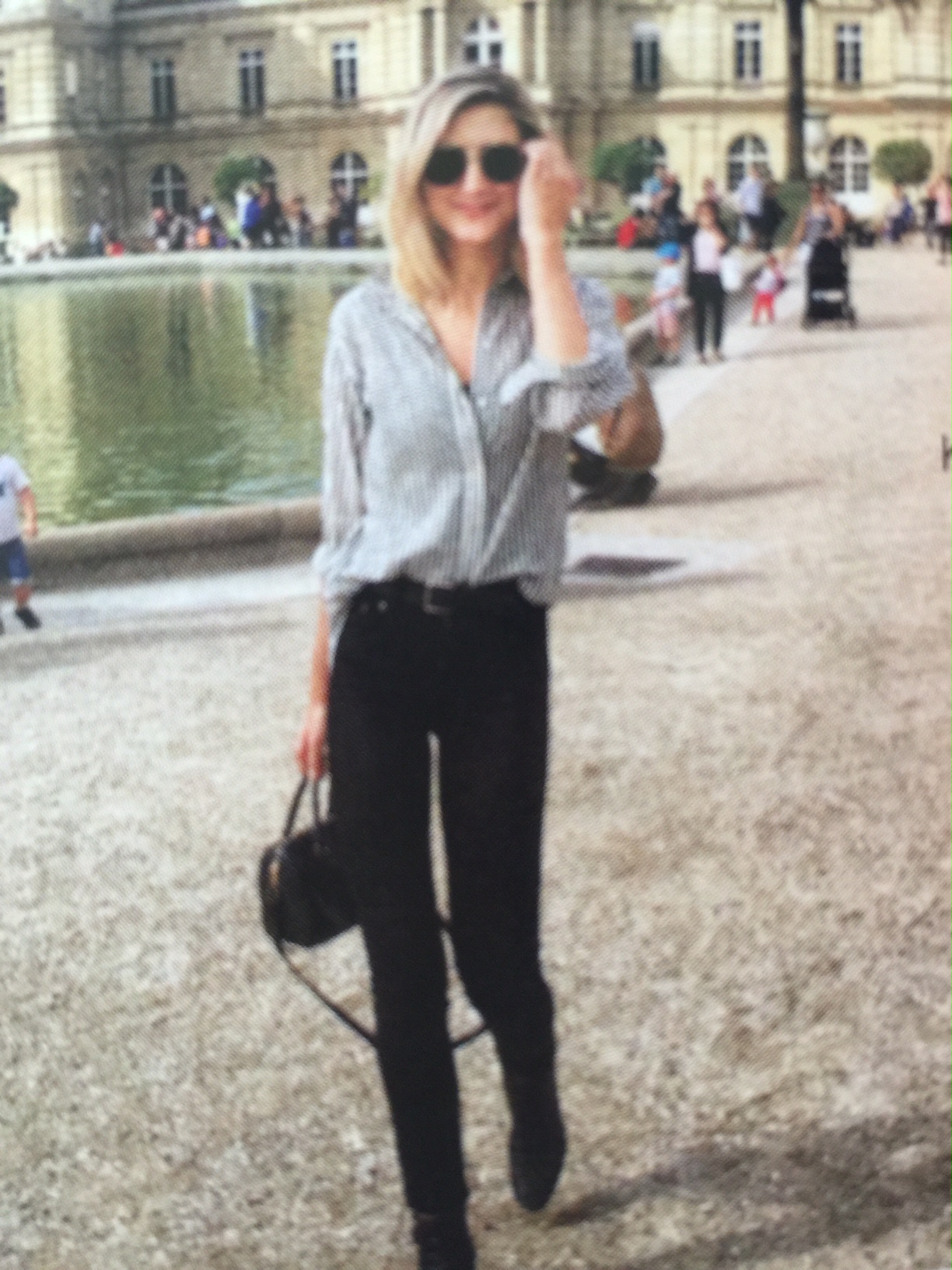 Let's analyze this photo. How much simpler can she be with her outfit? A great, yet simple shirt, simple black pants, nice handbag, belt – simple, but good haircut, done.
You can do this, too, and you'll save yourself a ton of money and stress by following a simple formula. After all, wouldn't you rather wear one or two outfits that look absolutely the best on you, rather than have a wardrobe full of mishmash stuff you bought that doesn't really work?
We all have different body types – but I promise you – there are one or two looks for every type that look the best on you. If you don't know, then make your way to a personal shopper at a store where they'll help you for free, or ask a stylish friend, whatever. And then find a few mix and match outfits that are simple, fit you perfectly, and look great in nearly any situation. And unless you're really good at putting interesting outfits together – don't fall victim to trends and complicated outfits.
Here are three more women who look effortlessly simple and chic: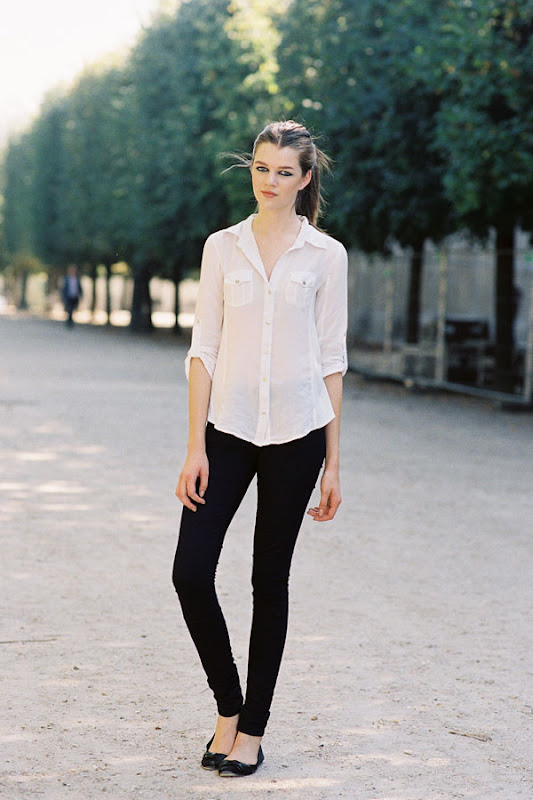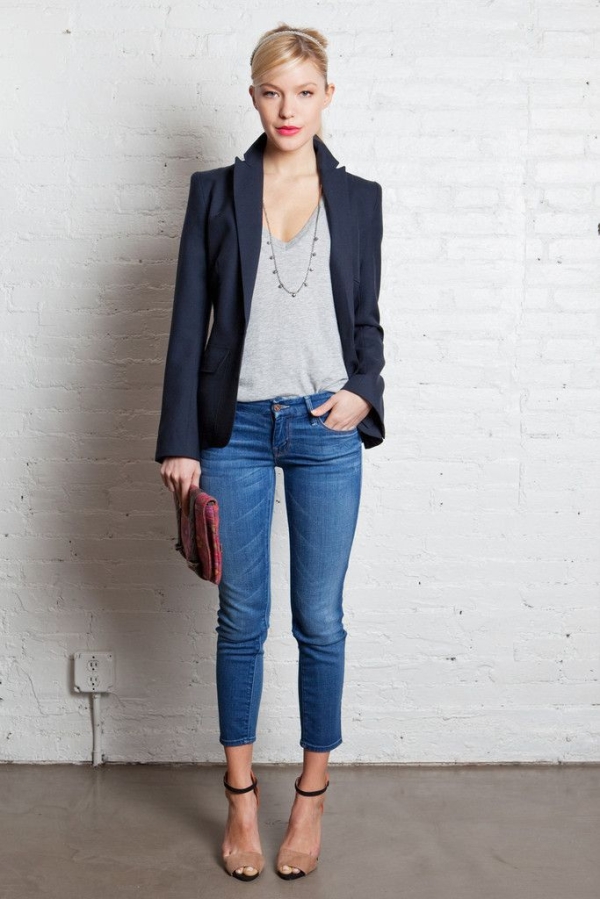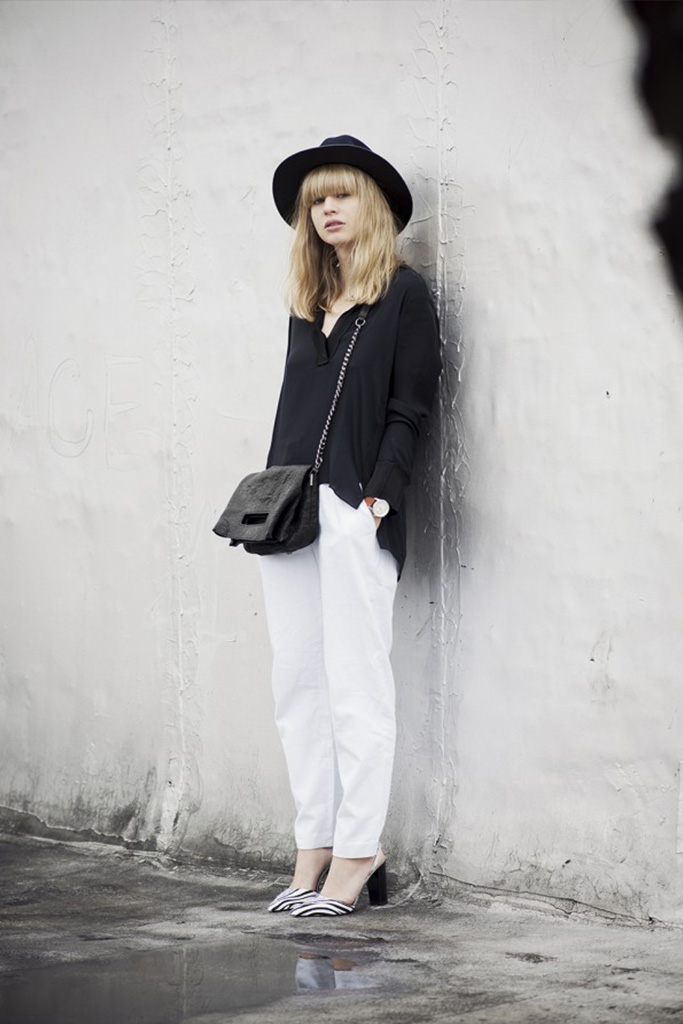 Let's go back to the photo I showed earlier. Our Vogue contributor friend can wear that shirt with another pair of different colored pants or a skirt, and she can wear those black pants with everything. Same with her handbag and belt. She can easily dress up or down by adding a piece or two of jewelry. If she wants a little color, she can add a fun colored cardigan, and if she wants to look professional, she can add a jacket. With this outfit she can pretty much go anywhere and look good. Her hair has a nice simple cut that looks like it doesn't take much time to fuss with.
She looks lovely, stylish and effortless. Talk about simplifying your life!
MAKE YOUR HOME LOOK EFFORTLESSLY CHIC, TOO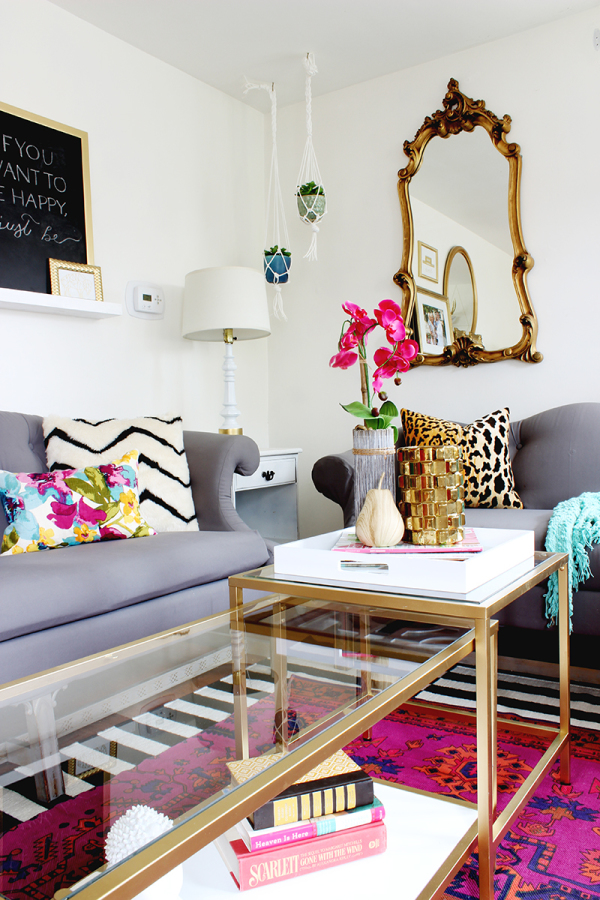 Let's move on to your home decor, following the same principal.
I love color, but for some reason when it came to painting the walls in my home, I could never seem to pull interesting colors together in the different rooms. I have designer friends who can do this – but after years of trying, I finally realized I couldn't.
Thank god for white walls and thank god they're super fashionable right now. I can't begin to tell you how much my life has simplified because I switched to white walls. If you're not ready for white, then try light grey.
I never thought of white walls until a friend of mine from Europe came to visit me several years ago, and suggested painting all the walls white – all of them – every single one in every room, bathroom and kitchen included. At first I thought she was nuts, and I thought the place would look too plain and cold. But I followed her advice anyway, and now I am totally in love with white walls.
Soon after, I started seeing white walls everywhere in decor magazines, websites, and so on. Now they're uber trendy.
White walls are the epitome of a breath of fresh air. They immediately make your house look super fresh, alive, open, light, crisp and clean – immediately. Not only that, but by painting every single wall in your house the same white color – your place looks more cohesive, expansive and with a beautiful flow. Your home isn't all chopped up with different colors. And then – here's the great surprise – the colors in your artwork, pillows, carpets and furniture stand out way more than before. So when you're finished – you actually wind up with a more colorful place than before.
Think about it. When you walk into a museum or art gallery – what colors are the walls? White!!!! That makes the artwork stand out! And that's exactly what'll happen for you.
And think about another element. Everyone has personal clutter that doesn't get put away immediately –  whether it's your coat left lying on a chair, or a stack of books or cooking equipment in the kitchen, magazines, inevitable clutter, this and that – and these things add color, too. So the simpler you can keep your walls – the fewer patterns and colors you have competing with each other. Again – if you're great with color, then don't follow my advice. But if you struggle with pulling colors together and you want a clean, crisp, simplified look – then go white.
Here are a few more images of rooms with white walls. I hope you'll be inspired.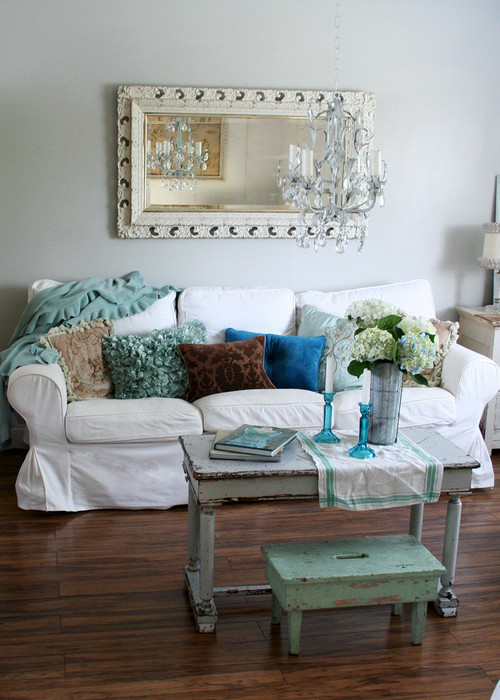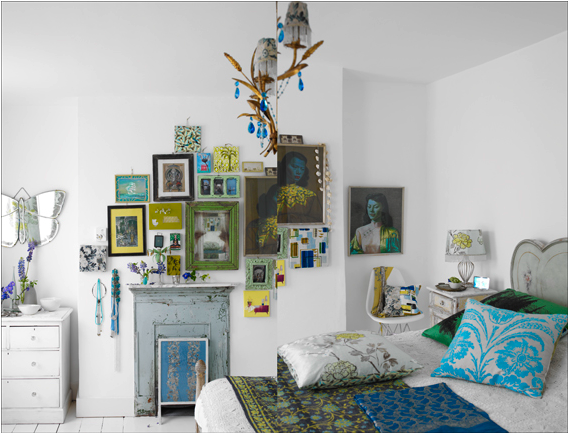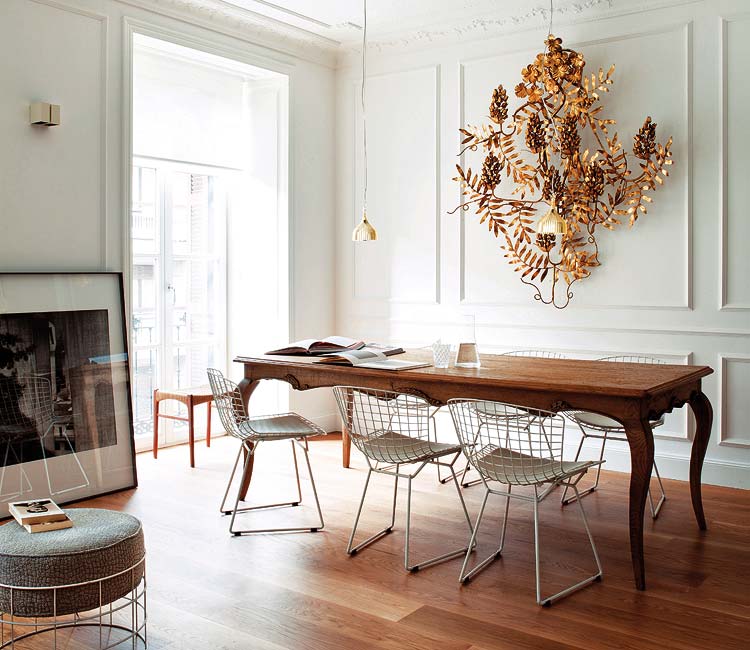 Lead photo from One Kings Lane of Erin Featherston's home
Living room with gilded gold mirror from stylemepretty.com
Bedroom from blog.styleestate.com