I have a love-hate feeling about cooking. After a long day at the office, standing at the stove for another 30 minutes or more is the last thing I want to do. (Disclaimer: I do need to be honest and disclose that more often than not on these long days, my husband makes dinner for us and insists that I relax – aren't I the luckiest?) We both hate grocery shopping.
However, on the more 'chill' work nights and weekend evenings, I love the cathartic, almost relaxing feeling I get from being creative in the kitchen. I never really change my mind about grocery shopping, but it must be done!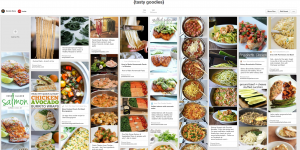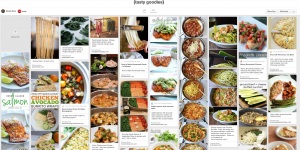 I also love finding delicious, healthy recipes to try. My "tasty goodies" Pinterest board is my most-pinned to, and I add more almost every week. It's stuffed with yummy recipes. But as many of us know, Pinterest is a hub for all of those amazing things we dream about seeing and doing, yet almost never get around to.
Feeling more of the love and less of the hate when cooking late on a weeknight is a struggle, but I've found a method that has worked to get simplicity in the kitchen…
Spend 30 minutes over the weekend or early in the week hunting for quick healthy recipes. I use Google and Pinterest, searching "quick healthy recipes".

Choose about four recipes that you plan to make in the next week. I generally 'choose' them by pinning them to my Tasty Goodies Pinterest board, or pick one that I've already pinned. This lets me easily reference them throughout the week.

Add each ingredient from the recipes to your grocery list, and go shopping. Almost all of the time, I'll add other things to my list that I know we'll eat in between, such as salad greens, apples, cheese, tomatoes, etc. Note: By heading to the store with a fully prepared list, this also cuts back on time spent doing something I don't like.

Throughout the week, pick from your list and cook them up! The leftovers from the meals and the supplemental items fill out the dinners for the week really nicely for two.
This process has saved me a ton of time and resulted in plenty of nutritious recipes that I think are the epitome of simplicity in the kitchen, like One-Pan Baked Salmon & Vegetables (pictured):
Salmon filets (I used 2 0.5lb. pieces)
Vegetables (I used tomatoes, zucchini and onions).
1 TBSP olive oil
2 TBSP lemon, garlic & herb butter (you could make this yourself or purchase already infused)
salt
Place the salmon skin filets side down (if there's any skin) in the middle of the pan, put vegetables on each side of the salmon. I used about 3/4 cup of chopped zucchini and onions and about two handfuls of large cherry tomatoes (cut in half). Drizzle olive oil over the vegetables and sprinkle with salt to taste. Add approximately 1 tablespoon of a lemon, garlic, & herb butter on top of each salmon filet. Bake at 400 degrees for approximately 20 minutes (or until salmon is cooked through).
Some other great quick and super easy weeknight recipes are Bruschetta Chicken Bake, Flank Steak Stir-Fry with Asparagus and Red Pepper, One-Pan Chicken Burrito Bowls, and Garlicky Grilled Tilapia with Couscous. Check out my Pinterest board for more! 
Enjoy!