Enough already with guilty holidays. We found 4 ridiculously healthy and fabulous dessert recipes that you can completely enjoy this year – and we mean, "completely." There is virtually NOTHING to cause guilt in these recipes, and on top of that, they're actually GOOD for you. (But you and your guests would never know this because they're as rich and yummy as any traditional recipe.) Here you go!
Homemade "Ice Cream"
Made with just one ingredient: banana! Peel and dice bananas into coin-shaped pieces, freeze for at least two hours, and blend until smooth. Then freeze it until solid, and it's ready to eat just like ice cream. Top with the best all natural chocolate sauce you can find, and if desired, add nuts, and fruit.
Baked Apple Crisp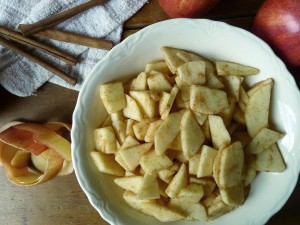 Fall and winter make us crave sweet and savory desserts like Apple Pie, and this Baked Apple Crisp hits the spot without stuffing you full of processed sugar. In a large bowl, mix 7 apples (peeled, cored, and sliced thin), ¼ cup of orange juice, 2 TBSP raw honey, 1 TBSP pure maple syrup, 2 tsp. cinnamon, and ¼ tsp. nutmeg. Pour the filling into a pie dish and bake at 350 degrees for 45 minutes. Mix together the crumble topping of 1 cup almond flour, 2 TBSP ground pecans, 4 TBSP raw honey, and 2 TBSP coconut oil. Sprinkle the crumble on top of the apples and continue baking for another 15-20 minutes.
Paleo Chocolate Ganache Cake
Chocolate cake is never categorized as 'healthy', but this one comes close. Preheat your oven to 350 degrees, and grease/flour (with arrowroot or tapioca flour) two 6-inch parchment-paper lined round baking pans. Mix ¾ cup of coconut flour, ¼ cup of arrowroot flour, 2/3 cup of cocoa powder, 1 tsp. baking soda and ¾ tsp. sea salt in a mixing bowl. In a separate bowl, beat 7 large, room-temperature eggs together, then mix in 10 TBSP grass-fed butter or Ghee, 2 tsp. pure vanilla extract, and ¾ cup plus 2 TBSP maple syrup until smooth. Add half of the egg mixture to the dry ingredients and mix until the lumps are gone, then add the rest and mix until smooth. Pour in ¼ cup of canned coconut milk. Pour half of the batter into one round pan, and half in the other, and bake for 40 minutes (or until a toothpick comes out clean after being inserted in the center of the cake).
Remove and allow the cakes to cool in the pans for 10 minutes, then remove them from the pans to finish cooling on a wire rack. Make the ganache frosting by melting 12 ounces of dark chocolate chips (or chopped chocolate pieces), 2/3 cup of coconut milk, and 4 TBSP of grass-fed butter or Ghee in the microwave. Heat for 30 seconds and then whisk, repeating as needed until the mixture is smooth. Allow it to set by leaving it out for approximately 45 minutes. Frost your cakes once they are completely cool, and serve at room temperature or chilled.
Strawberry Raw Vegan Cheesecake
Cheesecake is one of my favorite desserts, but it is full of things that aren't good (such as cheese itself, and processed sugar). I found this amazing vegan cheesecake recipe that's to die for, and far more healthy!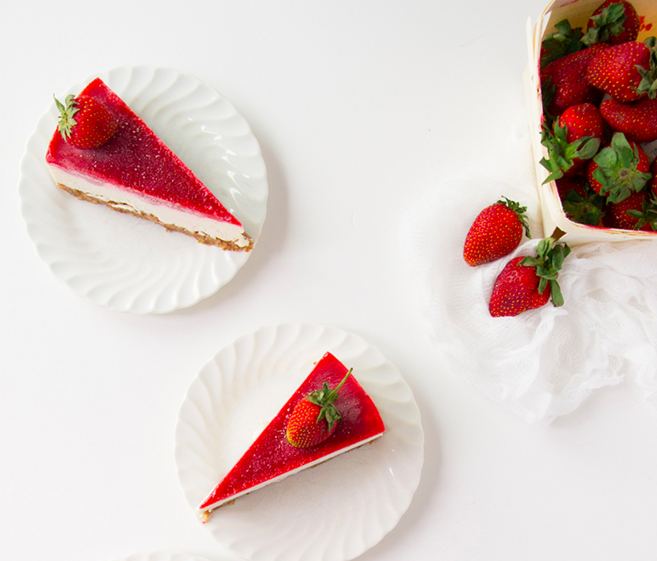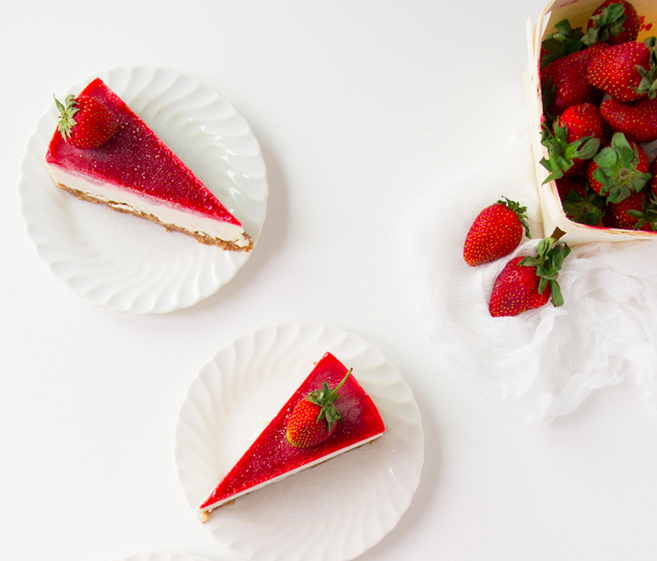 Start with the crust… Soak 1 ½ cups of pitted Medjool dates in warm water for 10 minutes, then drain and put them in the food processor until they turn into a paste. Put the paste in a bowl, then add 1 ½ cups of raw almonds in the processor, and pulse until they're finely chopped. Add the date paste back in, and pulse until the mixture comes together. Press the crust mixture evenly into a 9-inch springform pan, and freeze while preparing the filling. For the filling, mix together 3 cups of raw cashews (soaked overnight and drained), juice from 2 lemons (about ½ cup), 2/3 cup coconut oil,  ¼ cup full-fat coconut milk, and 1 cup agave nectar in a blender. Mix on low speed, then gradually increase and blend until smooth. Take one vanilla bean, and scrape its seeds into the blended mixture before mixing again on low speed. Pour the filling into the springform pan, and return it to the freezer. Clean your food processor, then add 2 cups of strawberries and 1 TBSP of agave nectar. Process until smooth, and then spread or drizzle it over the top of the cheesecake filling layer. Freeze the cake until it is solid, which is at least 4 hours. Allow it to thaw for 10 minutes before serving.
Not enough healthy dessert recipes for your holiday celebrations? Try Cherry Cranberry Oat Crisps, or make delicious single-serving Paleo Chocolate to top with fruit and nuts.
Enjoy!