I've been conflicted about what to eat for breakfast. Are you, too?
Is it healthier to eat a vegan breakfast, even though I'm hungry shortly after eating something like oatmeal and fruit?
Or is it better to eat high protein with eggs or eggs and bacon? At least that way I feel full. But is it healthy?
Let's talk about it, and then I'll give you recipes and a plan.
I just watched a great health video – Forks over Knives, and I'm also reading a book on preventing heart disease through lifestyle and diet changes, not pills. It's called 30 Days to Natural Blood Pressure Control, by David DeRose, MD.  Both the video and the book lay out a very convincing argument that a vegan diet is healthiest.
What Harvard Medical School says about diet
I can't go into details here, but I encourage you to watch the video and read the book. I give links below. For now, here's what Harvard Medical School has to say about eating a plant-based diet:
"Compared with meat eaters, vegetarians tend to consume less saturated fat and cholesterol and more vitamins C and E, dietary fiber, folic acid, potassium, magnesium, and phytochemicals (plant chemicals), such as carotenoids and flavonoids. As a result, they're likely to have lower total and LDL (bad) cholesterol, lower blood pressure, and lower body mass index (BMI), all of which are associated with longevity and a reduced risk for many chronic diseases.
Heart disease. In one of the largest studies — a combined analysis of data from five prospective studies involving more than 76,000 participants published several years ago — vegetarians were, on average, 25% less likely to die of heart disease. This result confirmed earlier findings from studies comparing vegetarian and nonvegetarian Seventh-day Adventists (members of this religious group avoid caffeine and don't drink or smoke; about 40% are vegetarians). In another study involving 65,000 people in the Oxford cohort of the European Prospective Investigation into Cancer and Nutrition (EPIC-Oxford), researchers found a 19% lower risk of death from heart disease among vegetarians…."
Grounded, no-nonsense health practices
The Harvard study mentions the Seventh-Day Adventists, and they are the group I have studied with for years. I am not an Adventist and you don't need to be either, in order to follow their health message.
The Adventists have been studied endlessly and on average, live 4-7 years longer than most Americans. They also have lower incidences of degenerative diseases like cancer, heart disease and diabetes. What's not to like about this?
They are so far ahead of the health curve that they introduced me to kale and quinoa ages ago – way before kale and quinoa became fashionable. Because of their grounded, no-nonsense health approach, they've always been my go-to for diet and health.
But sometimes, I fall of their health wagon, which is why I've been feeling conflicted about breakfast.
Before we get to my recipes, I suggest you start with a Mediterranean diet rather than trying to jump in and go totally vegan. It's pretty challenging to become a total vegan because you really need to pay attention to your diet in order to get the proper mix of nutrients. So for most people, it's easiest to follow Mediterranean, which is approximately 90 percent plant-based and 10 percent animal products like meat, dairy and eggs.
You can try making one meal vegan, such as breakfast. See how you like it, then add a vegan lunch and continue with animal protein for dinner.
Super hearty grain breakfasts

Photo of Peanut butter Acai bowl from halfbakedharvest.com
Pumpkin oatmeal
Pumpkin is so packed full of health benefits I can't list them all here, so check out this Huffington Post article about pumpkin. Cook steel-cut oatmeal (stay away from "quick-cooking" oatmeal. It's too processed), and at the end, stir in pumpkin to taste (canned or fresh), whatever spices you like such as nutmeg, ginger and vanilla. Mix in any seeds you have  – we used pumpkin seeds. Add banana and apple slices, or whatever fruit you have on hand. Then add a heaping spoonful of nut butter (almond, peanut, cashew). Top with almond or other nut milk.
Peanut butter Acai bowl
Acai berries are also full of nutrients, including helping digestion, cellular health and more. This recipe pairs acai berries with granola and peanut butter. Be sure to get super healthy, simple granola without a bunch of added sugar and junk. Make your own, buy in bulk, or read ingredients. I got this recipe and photo from halfbakedharvest.
2 frozen Acai Berry Packs OR 4 tablespoons Acai Berry Powder
1 cup coconut milk
2 cups fresh or frozen strawberries
1/2 cup fresh or frozen raspberries
2 super ripe bananas
2 tablespoons nut butter
1 tablespoon honey + more for serving
granola, seeds, berries/stone fruits, edible flowers and nut butter, for topping
Protein packed quinoa breakfast bowl
2 cups almond milk
1/4 Tbsp cinnamon
1/2 tsp vanilla
Pinch ground cloves
Pinch ground nutmeg
Pinch ground ginger
1 cup uncooked quinoa
1/2 cup dried cranberries, or any dried fruit
1 Tbsp maple syrup
1/2 cup raw almonds, chopped
2 Tbsp raw sunflower seeds
1 cup fresh blueberries, or any fresh fruit
2 Tbsp chia seeds
Coconut milk for drizzling
Preparation
Mix almond milk, cinnamon, vanilla, cloves, nutmeg and ginger in a pot then add the quinoa. Bring to a boil, cover and lower the heat to simmer for 10 minutes. Remove from heat and let sit for 5 minutes.
Sir in the dried cranberries and maple syrup and adjust sweetness to taste.
Spoon the quinoa into bowls and top each serving with almonds, sunflower seeds, blueberries, chia seeds and a drizzle of coconut milk and enjoy!
Recipe from One Green Planet
High protein vegan breakfasts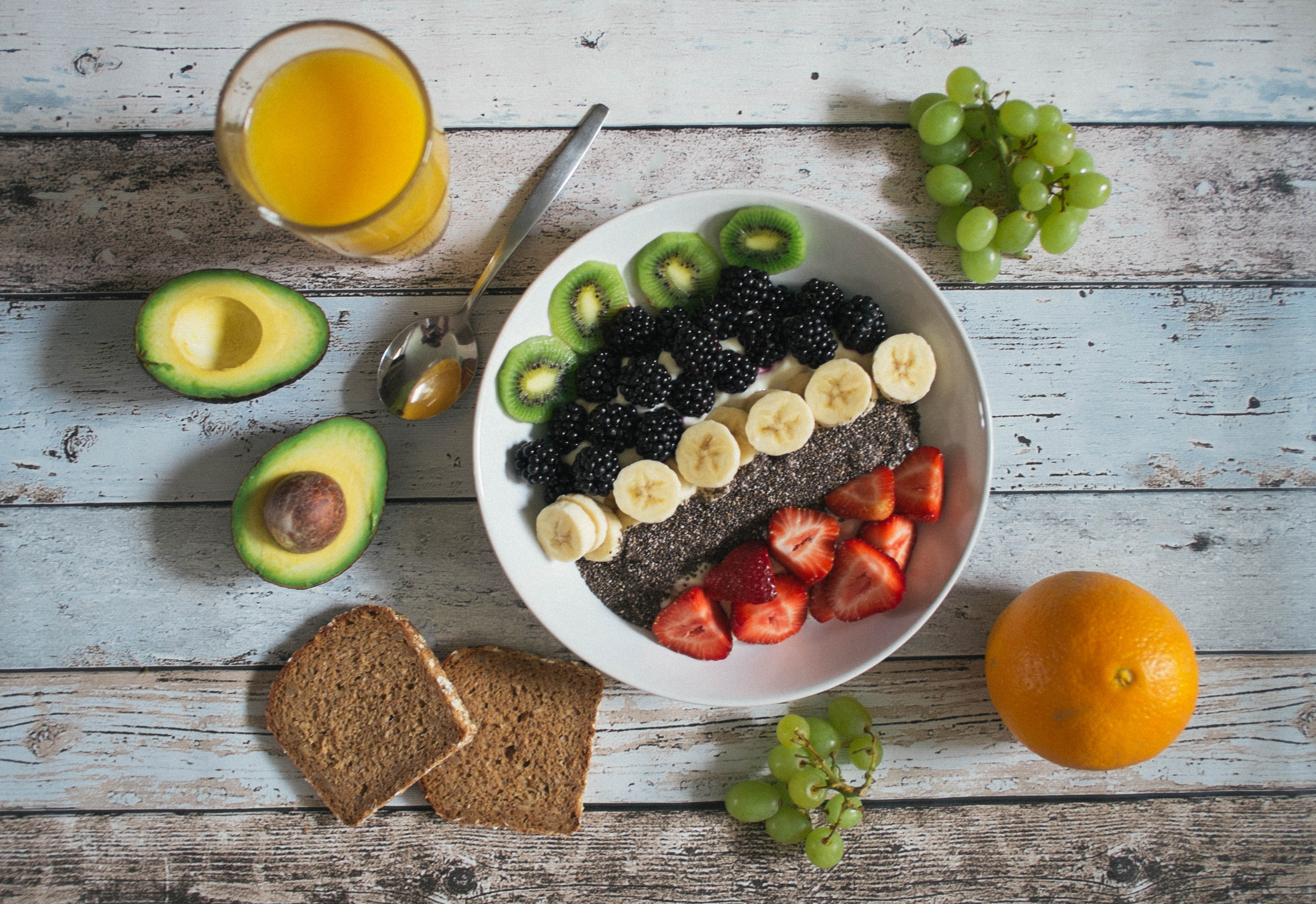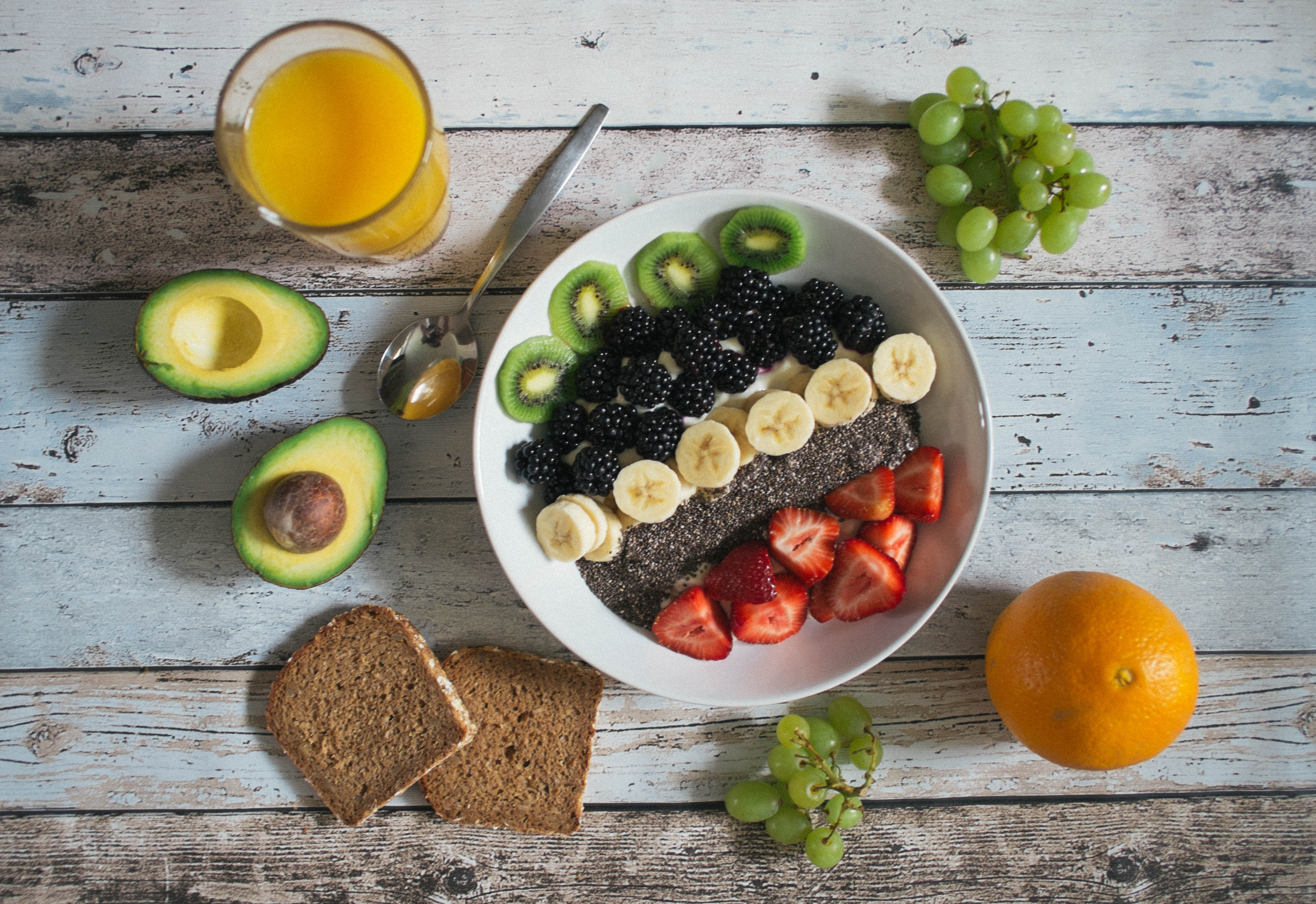 What if you want something other than these great grain bowls? Add plant-based protein such as tofu or beans. My friends at the Adventist Newstart program shared two of their recipes below. Be sure to always eat lots of fruit and a variety of nuts and seeds.
The Adventist rule is to eat breakfast like a king, lunch like a prince, and dinner like a pauper. That means breakfast is the most important meal of the day, followed by lunch. It's plain logic that you need your energy early in the day, and when dinnertime rolls around you don't need the energy – you need to rest.

Remember, if making all of this food feels overwhelming and you need to dash out of the house to work in the morning, then cook your grains in a slow cooker overnight so it's hot and ready in the morning. You can also cook up bulk quantities of the entree recipes below and store in serving size containers in the freezer or refrigerator.

Weimar Newstart breakfast entree recipes
"Cheesy" polenta
Ingredients
2 ¾ cup water
¾ t salt
1t garlic crushed
2 T yeast flakes
2 T lemon juice
2 t onion granules
¾ c coconut milk
1 c polenta or cornmeal
Directions
1. Put first 7 ingredients in large pot and bring to boil. 
2. Add cornmeal or polenta while stirring with a whip to prevent clumping
. 3. Turn down heat and cook until thick. 
4. Spread onto a sprayed 9 x 9 pan or pie pan before it gets too thick. 5. Refrigerate at least 4 hours till solid. 
6. Dump out of pan. Cut as desired and place on sprayed cookie sheet. 
6. Bake until golden and warmed through. 
7. Serve with saucy red beans.
Newstart chickpea a la king
Ingredients
4 cups onions
1 c water
¾ T salt
1½ T onion granules
2 T "Chicken" seasoning
1 T basil
1 c diced pimento
6 cups garbanzo beans
9 cups water
1-14 oz can coconut milk
2 ½ c cashews
2 ½ c water
¼ c arrowroot
2 T rice flour
1 c water
peas optional
Directions
1. Saute' first two ingredients together
2. Add next 7 ingredients to the onions. Simmer.
3. Blend cashews and 2 ½ c water until silky smooth about 2 ½ minutes. Add to pot with coconut milk.
4. Whisk together thickeners with 1 c water until smooth. Add to pot while stirring. 
5. Add water as necessary for desired consistency. 
6. Simmer or turn off.
Newstart scrambled tofu
Ingredients
1 lbs tofu
⅛ t turmeric
¼ t garlic powder
1½ t parsley
2 t onion powder
1½ t "chicken" seasoning
1 T nutritional yeast
½ t lemon juice
Directions
Place tofu in large bowl and mash. 
Add seasonings and mix well. 
Place in sprayed baking dish. 
Bake 350° for 40 minutes.
Resources
For more Adventist breakfast ideas, check out this book, Brighten Up Breakfast, by Erica Nedley.
For the book on preventing heart disease naturally, check out 30 Days to Natural Blood Pressure Control, by David DeRose.
A groundbreaking study on the health benefits of veganism is The China Study, by Thomas Campbell.
Everything you need to know about going vegan, here.
The documentary on why veganism is good for your health, Forks over Knives.
For information on the Weimar Newstart program, check here.
For information on Adventists being healthier than most Americans, check out these articles:
The Lovely Hill: Where People Live Longer and Happier, The Atlantic
Seventh Day Adventists and Health, PBS.
What Seventh-Day Adventists Get Right That Lengthens Their Life Expectancy, Huffington Post.